Send your excess baggage as airfreight
Save cash on air travel
On longer journeys or special travel occasions, there is often significantly more baggage than on a normal vacation. Someone who has to fly abroad for work, an internship, or study needs clothes and equipment for several months instead of a few weeks. When you are to bring sports equipment such as bicycles, surfboards, skiing equipment, or golf equipment on trips, it usually goes beyond the scope of the general rule of luggage.
Although the airlines usually carry those "out of the ordinary" pieces of luggage on a flight, they, therefore, charge special fees. Depending on the airline and tariff, you can calculate between 5 and 30 Euros per kilo for excess or bulky luggage. With heavy exceedances on the baggage allowance, this can quickly add up to several hundred Euros. The carriage of luggage will then be a significant cost factor in your air travel.
Up to 80 percent cost advantage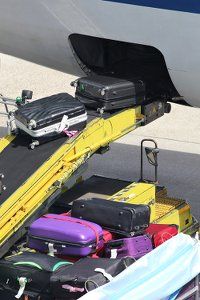 We can offer you a cost-effective alternative – the transport of your excess baggage or bulky goods as air freight. In this case, the much cheaper air freight rates are applied. This can save you up to 80 percent of the fees that would otherwise be incurred for excess baggage. This type of transport offers a significant cost advantage – the only drawback is that the transport usually does not take place on the same aircraft you are flying on and takes a few days longer. On average, you should expect about three to six days for arrival. This is not least due to security regulations.
Our Service for your excess Baggage
If the luggage to be carried is not "time-critical" this should not be a problem for you. Therefore, nothing speaks against taking advantage of the favorable air freight solution. Furthermore, with our service, we ensure that separate transport does not become a burden for you.
On request, we can collect the excess baggage at your home, of course, you can also bring it to us.
In time, and as agreed we will arrange the transport to the airport and the baggage check-in.
We complete all the formalities and paperwork resulting in this context for you.
If you wish, we can also arrange for adequate and safe packaging of your goods.
With our service, you can leave the entire handling of the transport of your excess baggage to us. You can then pick it up with peace of mind upon arrival at the destination airport.
Convince yourself of the service and cost advantages of air freight transport! We will be pleased to provide more information about our services and prices. Simply call us, use our contact form, or send us an email. We will answer you promptly.