Choose SATS as your next ocean and air freight partner to Brazil!
Brazil – Your Trusted Partner for Imports and Exports by Air Freight and Sea Freight
If you're planning an international shipment to or from Brazil, allow SATS to fulfill your global shipping needs. It is time to outpour your unconditional trust in SATS. We stick to the industry's changing dynamics and regulations to meet your specific needs. Our years of experience has familiarized us to deal with Brazil's intricate customs clearance process.
Your search for the most perfect and sophisticated logistics partner has reached its final destination. STATS can help you grow your U.S. business to make a footprint in Brazil. Our extensive network in the U.S is an ideal match for American companies who want to robust shipping solutions in Brazil territories.
What Industries does SATS serve?
From the energy industry, mining companies, original equipment manufacturers (OEMs), procurement-related companies, various machinery dealers; we provide viable and affordable freight rates to every industry.
SATS has offices all over the world which makes it easier for importers and exporters to get the best available logistics solutions. As a result, we can easily grow your geographical horizon in Brazil.
Logistical Expertise for Brazil
The geographical limitations bound no limitations when it comes to SATS. Our record ensures safety regulations and reliable transport shipments to and from Brazil. Whether you want air or sea freight in Itajaí or São Paulo, our strong relationships with the local authorities will make sure the functionality of operational activities. You can count on our commitment to ship your cargo on time.
SATS enjoys strategic operational network throughout Brazil. It makes our end-to-end ocean and air freight services even more seamless than ever. It is important to understand that Brazil is a highly bureaucratic country. Thus, logic dictates that for the best logistic navigation you can get behind the professional service of SATS.
Why Import / Export to Brazil?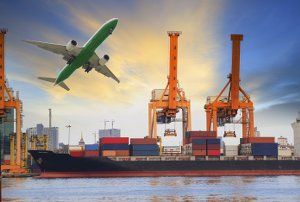 SATS offers quick strategic geographical expertise in the mainland and ocean transportation in Brazil. This proficiency allows your business to shift available modes, tailor logistics pattern and customize supply chain solutions as per your unique needs.
The massive agricultural growth rate of Brazil plays a vital role in the country's imports and exports. Furthermore, the top 5 exports of Brazil include beef, orange juice, coffee, soybeans, and sugarcane. It's top 5 imports, on the other hand, comprises organic chemicals, vehicles, mineral fuels, electrical equipment, computer machinery, and agricultural-industrial machinery.
Key Facts about Exports and Imports in Brazil
Total exports in 2017 amounted to $2019 billion.
Total imports in 2017 accumulated to $140 billion.
Brazil's 2018 nominal GDP was recorded to $1.868 trillion
The nominal GDP per capita is currently recorded at $8,967
Shares borders with mainland borders with Argentina, Columbia, Peru, Paraguay, Venezuela, and Uruguay.
Brazil is ranked as the 22nd largest export economy in the entire world
Last year, the country maintained a positive trade balance of $78.3
The main airports and seaports:
| | | |
| --- | --- | --- |
| Airport / Seaport | IATA-Code / UN/LOCODE | Associated city |
| Flughafen Rio de Janeiro | GIG | Rio de Janeiro |
| Aeroporto Santos Dumont | SDU | Rio de Janeiro |
| Guarulhos International Airport | SG SIN | Sao Paulo |
| Congonhas International Airport | GRU | Sao Paulo |
Benefit from our experience with transports from or to Brazil.
Our extensive network in Brazil as well as good conditions make us a strong partner.