Are you looking for reliable, seamless and flexible freight forwarding solutions to and from the US to Mexico? Are you not familiar with the laws and regulations governing imports and exports to and from Mexico?
Mexico – YOUR PARTNER FOR IMPORTS and EXPORTS BY AIR FREIGHT AND SEA FREIGHT
SATS freight forwarding services for Mexico offers comprehensive freight forwarding solutions for imports and exports to and from the US to Mexico. The freight forwarding services are governed by NAFTA (North American Free Trade Agreement) which has simplified the trade between the US, Canada, and Mexico.
Through this agreement, North American countries eliminated high tariff rates and encouraged cross the border shipping. Our network of freight forwarding services across the borders ensures that your shipment travels with similar ease, efficiency and flexibility as in the US.
Take Advantage of In-depth Industry Knowledge and Expertise for Mexico
Our in-depth knowledge and experience of the industry enables us to deliver efficient, swift and flexible freight forwarding services at highly competitive prices.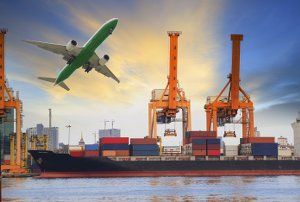 Whether you want to send LCL or FCL shipment through ocean freight or want to send your goods through airfreight services, our professionals help you choose the right solution for your import and export needs to or from the US to Mexico. SATS provides coverage for the entire Mexican territory. We move your freight across all main US/Mexico border gateways. Our company also specializes in moving your shipments intra-Mexico.
Helping You Overcome Shipping Challenges in Mexico
When you are importing from or exporting to Mexico, communication and expectations can pose a challenge. You need a reliable business partner who helps you develop secure and comfortable business relationships and smooth communications with Mexican people in the business.
SATS as an experienced, multi-lingual and international logistics service provider helps bridge the gaps in your business with Mexicans.  Our logistics experts with their knowledge of the Mexico/US logistic regulations keep your shipment moving smoothly and swiftly across borders.
With our proactive and professional services, we do comprehensive shipment planning for smooth cross-border operations, prepare and exchange documents and fulfill customs requirements and resolve any issues which may arise.
Some Quick Facts about Trade in Mexico
Mexico offers thriving opportunities for cross-border trade with the US
Mexico is one of America's leading trade partners
It is ranked as the third largest exporter to the US
The country has got trade and investment freedom
Mexico does import and export a variety of products to and from the US. These include oil products, industrial plants equipment, agriculture raw material, and produce and many others.
Mexico is a rapidly growing market for the US consumer products.
International supply chains are growing their operations to and from Mexico every year.
Two major Mexican ports are the Port of Veracruz and Altamira.
SATS logistic solutions for Mexico from/to the US offer most affordable, efficient and flexible freight forwarding services. No matter what kind of goods you want to import or export, our professional services get you through without any hassle.
Let SATS serve your import and export needs for Mexico!
The main airports and seaports:
| | | |
| --- | --- | --- |
| Airport / Seaport | IATA-Code / UN/LOCODE | Associated city |
| Licenciado Benito Juarez International Airport | MEX | Mexico City |
| Cancún International Airport | CUN | Cancún |
| Los Cabos International Airport | SJD | San José del Cabo |
| Don Miguel Hidalgo Y Costilla International Airport | GDL | Guadalajara |
| General Mariano Escobedo International Airport | MTY | Monterrey |
| Seaport Altamira | MXATM | Altamira |
| Seapor Tampico | MXTAM | Tampico |
| Seapor Veracruz | MXVER | Veracruz |
| Seapor Guaymas | MXGYM | Guayma |
| Seapor Topoloampo | MXTPB | Topolobampo |
| Seapor Mazatlán | MXMZT | Mazatlán |
| Seapor Manzanillo | MXZLO | Manzanillo |
| Seapor Lázaro Cárdenas | MXLZC | Lázaro Cárdenas |
| Seapor Salina Cruz | MXSCX | Salina Cruz |
Benefit from our experience with transports from or to Mexico.
Our extensive network in Mexico as well as good conditions make us a strong partner.