Efficient, Flexible, Competitive and Quick Import and export SATS freight services from or to the US and China
China – YOUR PARTNER FOR IMPORTS and EXPORTS THROUGH AIR FREIGHT AND SEA FREIGHT
Recently, China has taken the lead over the US as one of the largest and most influential economies of the world. The focus of China's economic plan is the development and growth of domestic demand. This has made China the world's largest exporter as well as importer of different food products, fuel, medical tools and equipment, various chemicals and natural mineral resources among numerous other products.
SATS; Your Reliable Ocean and Air Freight Source for China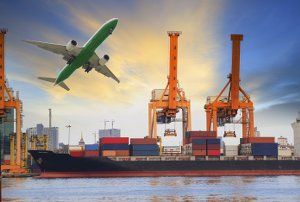 Sea, Air, Transport & Service (SATS) has been actively facilitating import and export of freight to and from the US to China. We have a tightly-knit network of partners all across China and the US that facilitate efficient and quick freight services. Our proficient, trained and experienced team enables straightforward, dependable and hassle-free freight forwarding process through air and ocean freight to and from the US to China.
SATS specializes in providing secure, trustworthy, flexible and safe logistic services. Our team is equipped with the latest industry knowledge, experience, training and equipment to handle import and export of all kinds of products to and from the US to China.
Catering to Every Type and Size of Business
Whether you are a small or medium-sized business or large scale enterprise looking for reliable, flexible and competitive freight forwarding solutions to or from China, SATS with its industry expertise and experience ensures an efficient, quick and simple shipping experience. Due to our vast network and strong relationships with various shipping lines as well as airlines across the US, China and globally, we can offer you the most competitive freight rates with quick custom clearance.
From automobiles and chemicals to perishable goods, food, fuel and hazardous materials, we efficiently handle all kinds of time-sensitive products. Our team ensures that your import or export reach on time to its destination without delays, saving your business from loss. With our comprehensive fulfillment services, your freight remains in complete compliance with the prevailing import/export laws and regulations.
Some Quick Facts about Import and Export to and from China
China continues to be a crucial part of US economic growth and development.
The export of American goods to China is progressively rising, and it is outpacing the export increase in comparison to the rest of the world.
There has been a significant increase in the export and import of goods as well as services from and to China and the US during the past decade.
More and more American states are exporting more than $1 billion of goods to China.
Various exports to China provide support for more than 1 million jobs in America.
The export of US goods to China reached $14 billion during 2017 which is double the exports to the other countries.
US exports of goods to China encompass a wide range of industries, such as transportation equipment, computer, electronic appliances, agricultural produce and many more.
The main airports and seaports:
| | | |
| --- | --- | --- |
| Airport / Seaport | IATA-Code / UN/LOCODE | Associated city |
| Airport Guangzhou | CAN | Guangzhou |
| Airport Shenzhen | SZX | Shenzhen |
| Nanjing Lukou International Airport | NKG | Nanjing |
| Shenyang Taoxian International Airport | SHE | Shenyang |
| Airport Peking (Beijing) | PEK | Peking (Beijing) |
| Hanzhong Airport | HZG | Hanzhong |
| Airport Qingdao-Liuting | TAO | Qingdao |
| Airport Shanghai-Pudong / Shanghai-Hongqiao | SVG / SHA | Shanghai |
| Airport Tianjin-Binhai | TSN | Tianjin |
| Ningbo Lishe International Airport | NGB | Ningbo |
| Airport Dalian-Zhoushuizi | DLC | Dalian |
| Seaport Nanjing | CN NKG | Nanjing |
| Seaport Ningbo | CN NGB | Ningbo |
| Seaport Qingdao | CN TAO | Qingdao |
| Seaport Shanghai | CN SHA | Shanghai |
| Seaport Tianjin-Xingang | CN XGG | Tianjin-Xingang |
| Seaport Zhanjiang | CN ZHA | Zhanjiang |
| Seaport Dalian | CN DLC | Dalian |
Benefit from our experience with transports from or to China.
Our extensive network in China as well as good conditions make us a strong partner.