Transportation of vehicles within Germany and Europe
Auto transport – Germany / Europe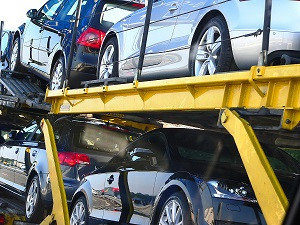 Vehicle transportation requires extensive know-how, whether it involves transportation within Germany, the EU, or beyond in other European countries. SATS Group is your competent and professional partner with long-standing practical experience in automotive logistics, offering you tailor-made solutions.
Whether it's about
Vehicle transfer
Scheduled shipments
Full loads
Part loads
We develop concepts for you that optimally implement your requirements—and at competitive prices. We are also here to help when there are extraordinary demands and transport needs to be met.
Here is an overview of our services for car transport in Germany and Europe:
Vehicle transfer
We take your vehicle wherever you want it. Vehicle transfers and individual transports are particularly suitable when you need to pick up or deliver a car far from your own home or business area. SATS Group takes care of this task for you. This way, you don't have to worry about it yourself and save a lot of time and effort. You can rely on us for reliable transfers with trained personnel and first-class service. Of course, we take into account your personal requirements and wishes. For example, if you want to transport a valuable classic car, we can arrange a closed car transport or develop an exclusive solution for you if needed.
Compare the costs you would incur for picking up or delivering the vehicle yourself with our offer. You'll see that it's cost-effective to hire us for the job.
Scheduled shipments
With scheduled shipments, punctuality and reliability are especially important. Often, they are requested when warehouse costs, storage fees, investment, and setup times need to be optimized. Precise, careful, and detailed planning is essential in this regard. We work with you to develop and implement a concept that enables the timely fulfillment of your requirements.
Full loads
Full truckloads are a sensible and cost-effective solution when several vehicles need to be transported simultaneously. The cars are then transported to your desired destination in a single, complete transport without any intermediate transshipment. We offer full truckloads throughout Europe – even beyond the EU – and take care of the necessary formalities. For example, we handle customs clearance for imports or exports to and from the EU. We can arrange full truckloads at very short notice. No more than 2 to 5 days lead time is required. See for yourself!
Part loads
With partial loads, several vehicles to be transported are combined into one shipment. Partial loads are an option when you want to transport only one vehicle without an individual transfer or have multiple cars to transport that are not enough for a full truckload. In both cases, partial loads are often a cost-effective alternative. With SATS Group, you can rely on the same service as with full truckloads. We also offer this service throughout Europe.
We would be happy to provide you with more information about our services and prices. Simply use our contact form, give us a call, or send us an email. We will respond promptly.
Expertise in car transport